Cinqo Watchface
The big report on your wrist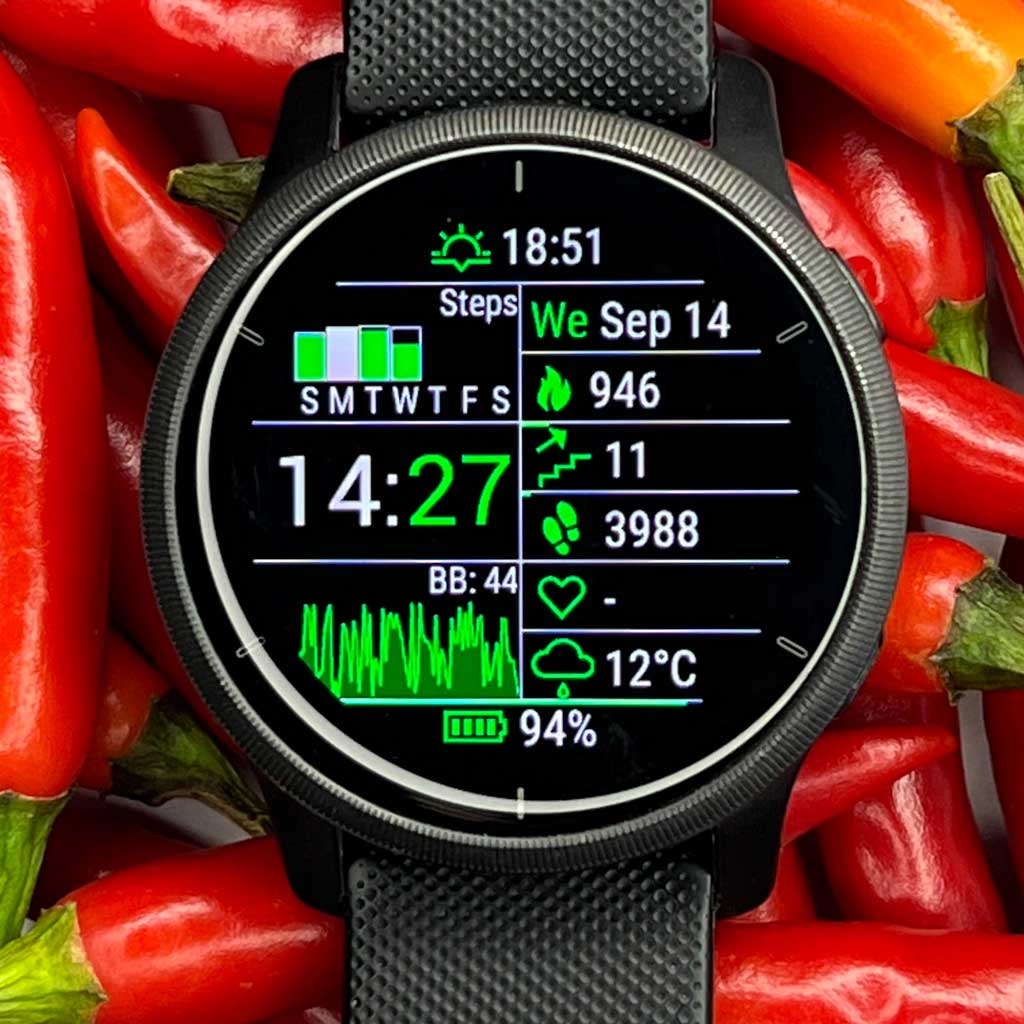 Enjoy your achievements every second
Training data, graphs and more are available on the Cinqo info watch face. Customize it the way you like and enjoy the fullness of data in the Cinqo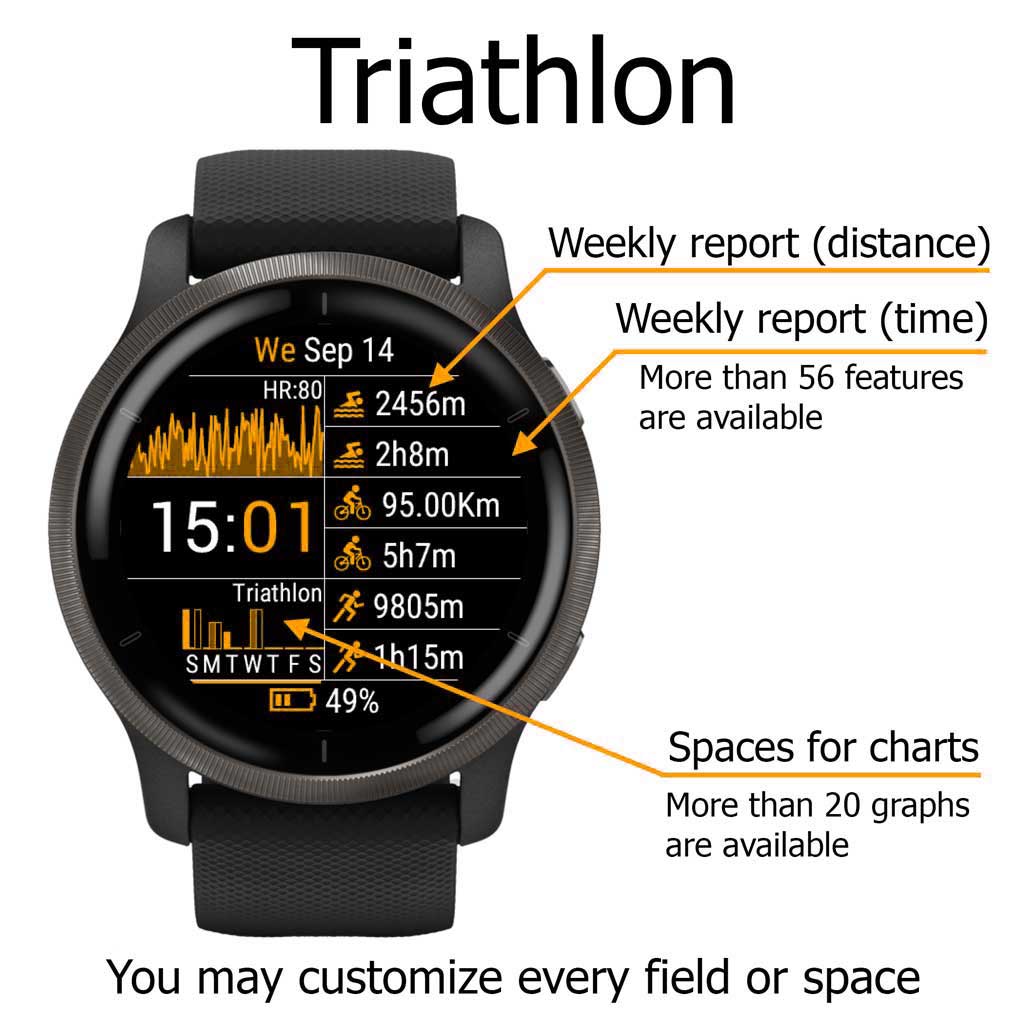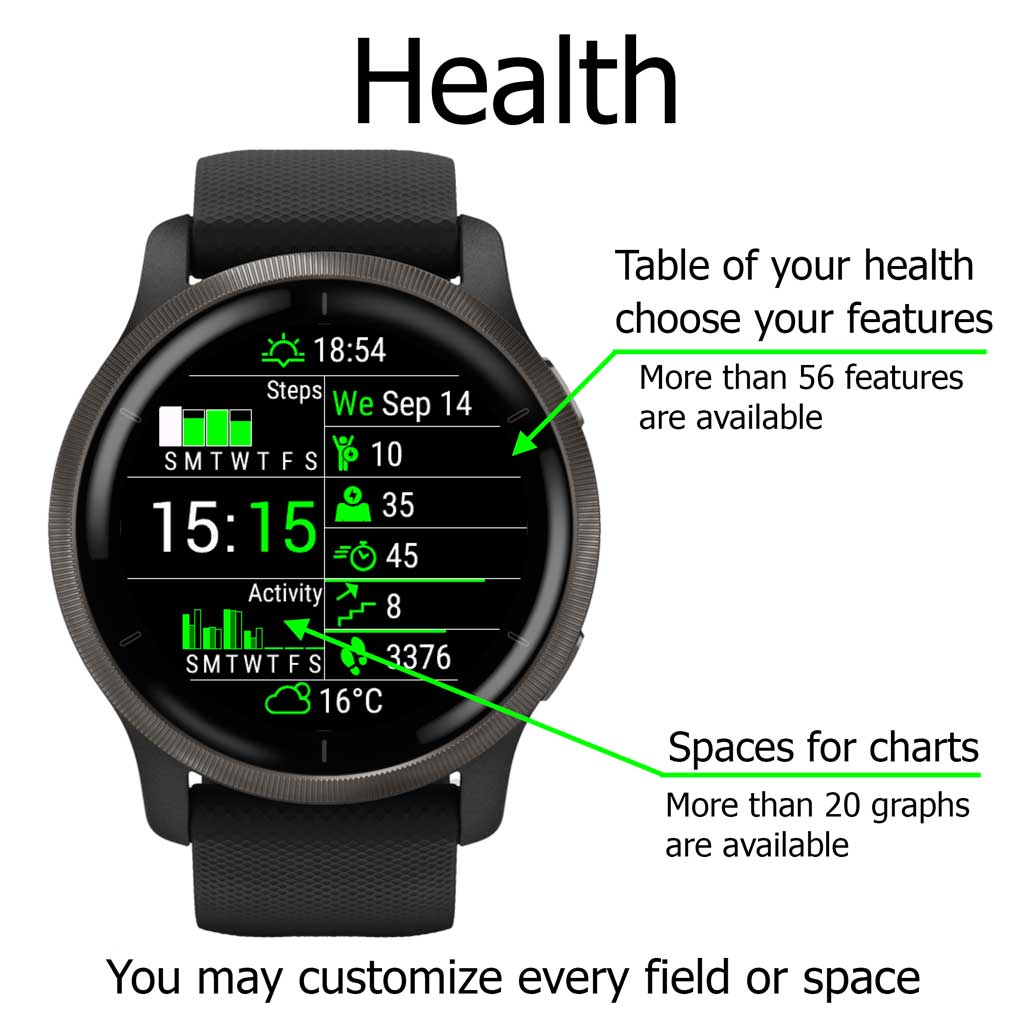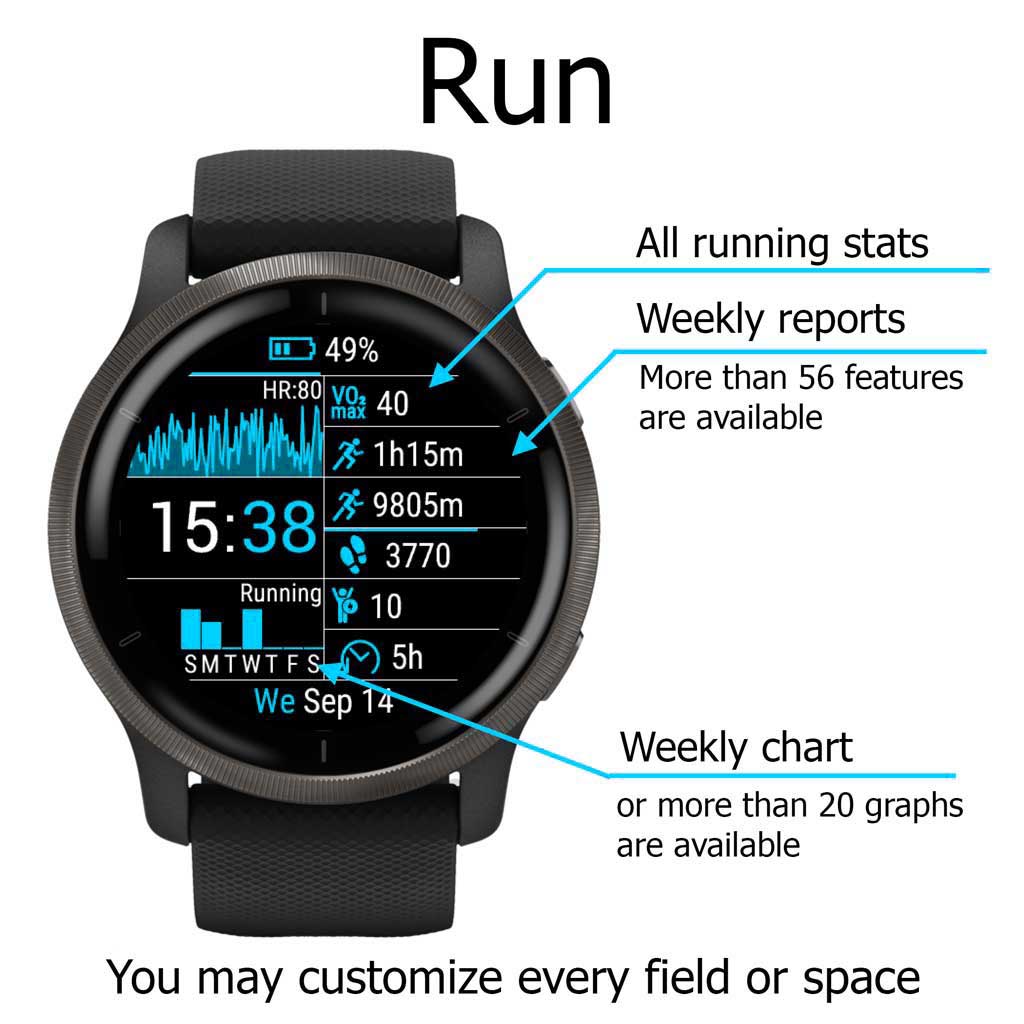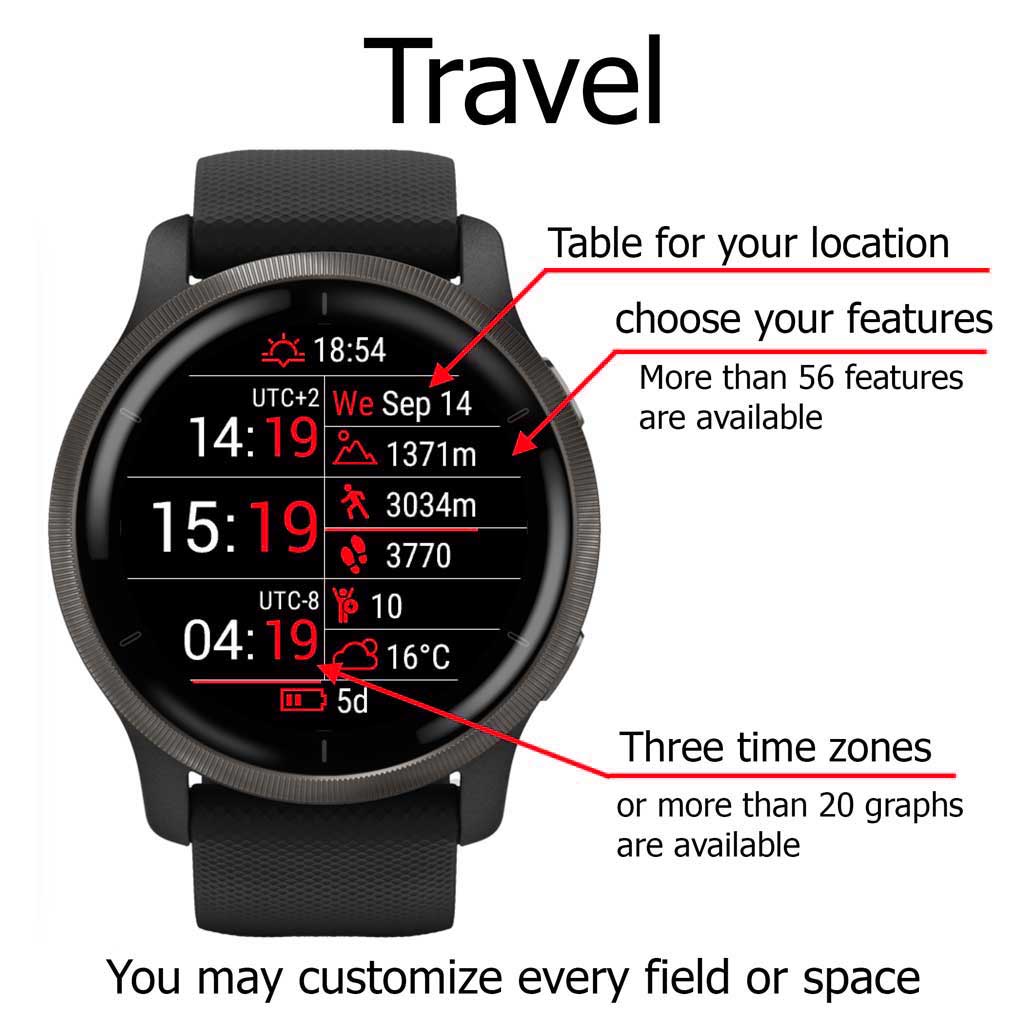 Choose your option
Limited Edition
basic functions are available
Full version
All of features are available (47 functions including Oxygen Saturation, Stress, Body Battery and more)
Compare plans
Limited Edition
Full version

Spaces

Activity a week
Body battery
Calories
Distance
Elevation
Floors Climbed
Heart rate
Oxygen saturation
Pressure hPa
Steps
Stress
Temperature
Time
Time zone 2
Time zone 3
Triathlon
Week bike distance
Week run distance
Week strength duration
Week swim distance

Fields

Activity a day
Activity a week
Altitude
Battery %
Battery days
Blood glucose
Body battery
Calories
Calories active
Date
Distance
Feels like
Floors Climbed
Floors Descended
Heart rate
Humidity
Moon
Move bar
Notifications
Oxygen saturation
Precipitation
Pressure hPa
Pressure inHg
Pressure mmHg
Respiration rate
Resting average heart rate
Resting heart rate
Seconds
Solar intensity
Status
Steps
Stress
Sunrise
Sunrise/Sunset
Sunset
Temperature
Time counter
Time to recovery
Time zone 2
Time zone 3
To Sunrise
To Sunrise/Sunset
To Sunset
VO2 max Cycling
VO2 max Running
Weather
Week bike distance
Week bike duration
Week number
Week run distance
Week run duration
Week strength duration
Week swim distance
Week swim duration
Wind km/h
Wind m/s
Wind mph
FAQ
On the watch, go to settings, system, units, and then scroll to the bottom - change the temperature to Celsius there.
On the watch, go to Settings - System - Clock. Sets the device to show time in a 12-hour or a 24-hour format. Allows you to set the time manually or automatically based on your paired mobile device.
Uninstall watchface.
Reboot your watch (turn off and turn on or even do hard reset).
Install watchface again.
n/a - The selected field is not available for your device. You may need to update the software.
n/d - There is no data to display. Just wait for a while.
n/c - No connection. Check the availability of the device's connection to your phone or the availability of a network.
no GPS - You need to get the coordinates. Start an activity or save a point.
API key - You need to enter the OpenWeatherMap API key.
paid or $ - This option is paid and you have ended the trial period.
This app requires access to:
Run in the background when it is not active (potentially affecting battery life)
To get access to the internet (for watchfaces it's available only in background)
Send/receive information to/from the Internet
To get data from openweathermap or nightscout
To get coordinates (for calculate sunset or sunrise, or for the weather)
Heart rate, barometer, temperature, and altitude history
To show you the last measured value
Your Garmin Connect™ fitness profile
To show you calculated values from your profile: resting heart rate or VO2 max
Some functions are not displayed due to hardware limitations. Your watch may not have some sensors.
There are also restrictions on the software version of your watch to display some functions.
Pay attention to the Connect IQ (CIQ) version on your watch:
Seconds, Date, Battery %, Second time zone, Step count, Distance, Heart rate, Resting heart rate, Calories, Active calories, Move bar, Week number, Moon phase, Time counter
No limits
Sunrise, Sunset, Sunset/Sunrise, To Sunrise, To Sunset, To Sunrise/Sunset
It is necessary to determine the coordinates by satellites or from the watchface settings
Status, Notifications
API Level 3.0.0 - only for connection available
Blood glucose (Nightscout), OpenWeatherMap weather provider is chosen: Weather, Feels like, Humidity, Precipitation, Wind m/s, Wind km/h, Wind knot, Wind mph, Pressure mmHg, Pressure inHg, Pressure hPa
Internet connection | Supported Devices

Approach® S60
Approach® S62
Captain Marvel
D2™ Air
D2™ Air X10
D2™ Bravo
D2™ Bravo Titanium
D2™ Charlie
D2™ Delta
D2™ Delta PX
D2™ Delta S
D2™ Mach 1
Darth Vader™
Descent™ G1 / G1 Solar
Descent™ Mk1
Descent™ Mk2 / Descent™ Mk2i
Descent™ Mk2 S
Enduro™
epix™
epix™ (Gen 2) / quatix® 7 Sapphire
First Avenger
Forerunner® 230
Forerunner® 235
Forerunner® 245
Forerunner® 245 Music
Forerunner® 255
Forerunner® 255 Music
Forerunner® 255s
Forerunner® 255s Music
Forerunner® 45
Forerunner® 55
Forerunner® 630
Forerunner® 645
Forerunner® 645 Music
Forerunner® 735xt
Forerunner® 745
Forerunner® 920XT
Forerunner® 935
Forerunner® 945
Forerunner® 945 LTE
Forerunner® 955 / Solar
fēnix® 3 / tactix® Bravo / quatix® 3
fēnix® 3 HR
fēnix® 5 / quatix® 5
fēnix® 5 Plus
fēnix® 5S
fēnix® 5S Plus
fēnix® 5X / tactix® Charlie
fēnix® 5X Plus
fēnix® 6 / 6 Solar / 6 Dual Power
fēnix® 6 Pro / 6 Sapphire / 6 Pro Solar / 6 Pro Dual Power / quatix® 6
fēnix® 6S / 6S Solar / 6S Dual Power
fēnix® 6S Pro / 6S Sapphire / 6S Pro Solar / 6S Pro Dual Power
fēnix® 6X Pro / 6X Sapphire / 6X Pro Solar / tactix® Delta Sapphire / Delta Solar / Delta Solar - Ballistics Edition / quatix® 6X / 6X Solar / 6X Dual Power
fēnix® 7 / quatix® 7
fēnix® 7S
fēnix® 7X / tactix® 7 / quatix® 7X Solar
fēnix® Chronos
Garmin Swim™ 2
GPSMAP® 66s / 66sr / 66st
GPSMAP® 86s / 86sc / 86i / 86sci
Instinct® 2 / Solar / Dual Power / dēzl Edition
Instinct® 2S / Solar / Dual Power
MARQ® Adventurer
MARQ® Athlete
MARQ® Aviator
MARQ® Captain / MARQ® Captain: American Magic Edition
MARQ® Commander
MARQ® Driver
MARQ® Expedition
MARQ® Golfer
Montana® 7 Series
Oregon® 7 Series
Rey™
Rino® 7 Series
Venu™
Venu™ 2
Venu™ 2 Plus
Venu™ 2S
Venu™ Mercedes-Benz® Collection
Venu® Sq
Venu® Sq. Music Edition
vívoactive®
vívoactive® 3
vívoactive® 3 Mercedes-Benz® Collection
vívoactive® 3 Music
vívoactive® 3 Music LTE
vívoactive® 4
vívoactive® 4S
vívoactive® HR

Floors climbed, Floors descended, Altitude, Garmin weather provider is chosen: Pressure mmHg, Pressure inHg, Pressure hPa, Temperature (from watch sensor)
API Level 2.1.0 | Supported Devices

Captain Marvel
D2™ Air
D2™ Air X10
D2™ Charlie
D2™ Delta
D2™ Delta PX
D2™ Delta S
D2™ Mach 1
Darth Vader™
Descent™ G1 / G1 Solar
Descent™ Mk1
Descent™ Mk2 / Descent™ Mk2i
Descent™ Mk2 S
Enduro™
epix™ (Gen 2) / quatix® 7 Sapphire
First Avenger
Forerunner® 255
Forerunner® 255 Music
Forerunner® 255s
Forerunner® 255s Music
Forerunner® 645
Forerunner® 645 Music
Forerunner® 745
Forerunner® 935
Forerunner® 945
Forerunner® 945 LTE
Forerunner® 955 / Solar
fēnix® 5 / quatix® 5
fēnix® 5 Plus
fēnix® 5S
fēnix® 5S Plus
fēnix® 5X / tactix® Charlie
fēnix® 5X Plus
fēnix® 6 / 6 Solar / 6 Dual Power
fēnix® 6 Pro / 6 Sapphire / 6 Pro Solar / 6 Pro Dual Power / quatix® 6
fēnix® 6S / 6S Solar / 6S Dual Power
fēnix® 6S Pro / 6S Sapphire / 6S Pro Solar / 6S Pro Dual Power
fēnix® 6X Pro / 6X Sapphire / 6X Pro Solar / tactix® Delta Sapphire / Delta Solar / Delta Solar - Ballistics Edition / quatix® 6X / 6X Solar / 6X Dual Power
fēnix® 7 / quatix® 7
fēnix® 7S
fēnix® 7X / tactix® 7 / quatix® 7X Solar
fēnix® Chronos
Instinct® 2 / Solar / Dual Power / dēzl Edition
Instinct® 2S / Solar / Dual Power
MARQ® Adventurer
MARQ® Athlete
MARQ® Aviator
MARQ® Captain / MARQ® Captain: American Magic Edition
MARQ® Commander
MARQ® Driver
MARQ® Expedition
MARQ® Golfer
Rey™
Venu™
Venu™ 2
Venu™ 2 Plus
Venu™ 2S
Venu™ Mercedes-Benz® Collection
vívoactive® 3
vívoactive® 3 Mercedes-Benz® Collection
vívoactive® 3 Music
vívoactive® 3 Music LTE
vívoactive® 4
vívoactive® 4S
vívoactive® HR

Activity a week, Activity a day
API Level 2.1.0 | Supported Devices

Approach® S60
Approach® S62
Captain Marvel
D2™ Air
D2™ Air X10
D2™ Charlie
D2™ Delta
D2™ Delta PX
D2™ Delta S
D2™ Mach 1
Darth Vader™
Descent™ G1 / G1 Solar
Descent™ Mk1
Descent™ Mk2 / Descent™ Mk2i
Descent™ Mk2 S
Enduro™
epix™ (Gen 2) / quatix® 7 Sapphire
First Avenger
Forerunner® 245
Forerunner® 245 Music
Forerunner® 255
Forerunner® 255 Music
Forerunner® 255s
Forerunner® 255s Music
Forerunner® 55
Forerunner® 645
Forerunner® 645 Music
Forerunner® 735xt
Forerunner® 745
Forerunner® 935
Forerunner® 945
Forerunner® 945 LTE
Forerunner® 955 / Solar
fēnix® 5 / quatix® 5
fēnix® 5 Plus
fēnix® 5S
fēnix® 5S Plus
fēnix® 5X / tactix® Charlie
fēnix® 5X Plus
fēnix® 6 / 6 Solar / 6 Dual Power
fēnix® 6 Pro / 6 Sapphire / 6 Pro Solar / 6 Pro Dual Power / quatix® 6
fēnix® 6S / 6S Solar / 6S Dual Power
fēnix® 6S Pro / 6S Sapphire / 6S Pro Solar / 6S Pro Dual Power
fēnix® 6X Pro / 6X Sapphire / 6X Pro Solar / tactix® Delta Sapphire / Delta Solar / Delta Solar - Ballistics Edition / quatix® 6X / 6X Solar / 6X Dual Power
fēnix® 7 / quatix® 7
fēnix® 7S
fēnix® 7X / tactix® 7 / quatix® 7X Solar
fēnix® Chronos
Instinct® 2 / Solar / Dual Power / dēzl Edition
Instinct® 2S / Solar / Dual Power
MARQ® Adventurer
MARQ® Athlete
MARQ® Aviator
MARQ® Captain / MARQ® Captain: American Magic Edition
MARQ® Commander
MARQ® Driver
MARQ® Expedition
MARQ® Golfer
Rey™
Venu™
Venu™ 2
Venu™ 2 Plus
Venu™ 2S
Venu™ Mercedes-Benz® Collection
Venu® Sq
Venu® Sq. Music Edition
vívoactive® 3
vívoactive® 3 Mercedes-Benz® Collection
vívoactive® 3 Music
vívoactive® 3 Music LTE
vívoactive® 4
vívoactive® 4S
vívoactive® HR

Solar intensity
API Level 3.2.0 | The solar sensor should be available
Garmin weather provider is chosen: Weather, Feels like, Humidity, Precipitation, Wind m/s, Wind km/h, Wind mph
API Level 3.2.0 | Supported Devices

Captain Marvel
D2™ Air
D2™ Air X10
D2™ Mach 1
Darth Vader™
Descent™ G1 / G1 Solar
Descent™ Mk2 / Descent™ Mk2i
Descent™ Mk2 S
Edge® 1030
Edge® 1030 / Bontrager
Edge® 1030 Plus
Edge® 530
Edge® 830
Enduro™
epix™ (Gen 2) / quatix® 7 Sapphire
First Avenger
Forerunner® 245
Forerunner® 245 Music
Forerunner® 255
Forerunner® 255 Music
Forerunner® 255s
Forerunner® 255s Music
Forerunner® 55
Forerunner® 745
Forerunner® 945
Forerunner® 945 LTE
Forerunner® 955 / Solar
fēnix® 6 / 6 Solar / 6 Dual Power
fēnix® 6 Pro / 6 Sapphire / 6 Pro Solar / 6 Pro Dual Power / quatix® 6
fēnix® 6S / 6S Solar / 6S Dual Power
fēnix® 6S Pro / 6S Sapphire / 6S Pro Solar / 6S Pro Dual Power
fēnix® 6X Pro / 6X Sapphire / 6X Pro Solar / tactix® Delta Sapphire / Delta Solar / Delta Solar - Ballistics Edition / quatix® 6X / 6X Solar / 6X Dual Power
fēnix® 7 / quatix® 7
fēnix® 7S
fēnix® 7X / tactix® 7 / quatix® 7X Solar
Instinct® 2 / Solar / Dual Power / dēzl Edition
Instinct® 2S / Solar / Dual Power
MARQ® Adventurer
MARQ® Athlete
MARQ® Aviator
MARQ® Captain / MARQ® Captain: American Magic Edition
MARQ® Commander
MARQ® Driver
MARQ® Expedition
MARQ® Golfer
Montana® 7 Series
Rey™
Venu™
Venu™ 2
Venu™ 2 Plus
Venu™ 2S
Venu™ Mercedes-Benz® Collection
Venu® Sq
Venu® Sq. Music Edition
vívoactive® 3 Music
vívoactive® 3 Music LTE
vívoactive® 4
vívoactive® 4S

Average resting heart rate
API Level 3.2.0 | Supported Devices

Captain Marvel
D2™ Air
D2™ Air X10
D2™ Mach 1
Darth Vader™
Descent™ G1 / G1 Solar
Descent™ Mk2 / Descent™ Mk2i
Descent™ Mk2 S
Enduro™
epix™ (Gen 2) / quatix® 7 Sapphire
First Avenger
Forerunner® 245
Forerunner® 245 Music
Forerunner® 255
Forerunner® 255 Music
Forerunner® 255s
Forerunner® 255s Music
Forerunner® 55
Forerunner® 645 Music
Forerunner® 745
Forerunner® 945
Forerunner® 945 LTE
Forerunner® 955 / Solar
fēnix® 5 Plus
fēnix® 5S Plus
fēnix® 5X Plus
fēnix® 6 / 6 Solar / 6 Dual Power
fēnix® 6 Pro / 6 Sapphire / 6 Pro Solar / 6 Pro Dual Power / quatix® 6
fēnix® 6S / 6S Solar / 6S Dual Power
fēnix® 6S Pro / 6S Sapphire / 6S Pro Solar / 6S Pro Dual Power
fēnix® 6X Pro / 6X Sapphire / 6X Pro Solar / tactix® Delta Sapphire / Delta Solar / Delta Solar - Ballistics Edition / quatix® 6X / 6X Solar / 6X Dual Power
fēnix® 7 / quatix® 7
fēnix® 7S
fēnix® 7X / tactix® 7 / quatix® 7X Solar
Instinct® 2 / Solar / Dual Power / dēzl Edition
Instinct® 2S / Solar / Dual Power
MARQ® Adventurer
MARQ® Athlete
MARQ® Aviator
MARQ® Captain / MARQ® Captain: American Magic Edition
MARQ® Commander
MARQ® Driver
MARQ® Expedition
MARQ® Golfer
Rey™
Venu™
Venu™ 2
Venu™ 2 Plus
Venu™ 2S
Venu™ Mercedes-Benz® Collection
Venu® Sq
Venu® Sq. Music Edition
vívoactive® 3 Music
vívoactive® 3 Music LTE
vívoactive® 4
vívoactive® 4S

Oxygen saturation
API Level 3.2.0 | Supported Devices

Captain Marvel
D2™ Air
D2™ Air X10
D2™ Mach 1
Darth Vader™
Descent™ G1 / G1 Solar
Descent™ Mk2 / Descent™ Mk2i
Descent™ Mk2 S
Enduro™
epix™ (Gen 2) / quatix® 7 Sapphire
First Avenger
Forerunner® 245
Forerunner® 245 Music
Forerunner® 255
Forerunner® 255 Music
Forerunner® 255s
Forerunner® 255s Music
Forerunner® 745
Forerunner® 945
Forerunner® 945 LTE
Forerunner® 955 / Solar
fēnix® 5 Plus
fēnix® 5S Plus
fēnix® 5X Plus
fēnix® 6 / 6 Solar / 6 Dual Power
fēnix® 6 Pro / 6 Sapphire / 6 Pro Solar / 6 Pro Dual Power / quatix® 6
fēnix® 6S / 6S Solar / 6S Dual Power
fēnix® 6S Pro / 6S Sapphire / 6S Pro Solar / 6S Pro Dual Power
fēnix® 6X Pro / 6X Sapphire / 6X Pro Solar / tactix® Delta Sapphire / Delta Solar / Delta Solar - Ballistics Edition / quatix® 6X / 6X Solar / 6X Dual Power
fēnix® 7 / quatix® 7
fēnix® 7S
fēnix® 7X / tactix® 7 / quatix® 7X Solar
Instinct® 2 / Solar / Dual Power / dēzl Edition
Instinct® 2S / Solar / Dual Power
MARQ® Adventurer
MARQ® Athlete
MARQ® Aviator
MARQ® Captain / MARQ® Captain: American Magic Edition
MARQ® Commander
MARQ® Driver
MARQ® Expedition
MARQ® Golfer
Rey™
Venu™
Venu™ 2
Venu™ 2 Plus
Venu™ 2S
Venu™ Mercedes-Benz® Collection
Venu® Sq
Venu® Sq. Music Edition
vívoactive® 4
vívoactive® 4S

Battery days
API Level 3.3.0 | Supported Devices

D2™ Air X10
D2™ Mach 1
Descent™ G1 / G1 Solar
Descent™ Mk2 / Descent™ Mk2i
Descent™ Mk2 S
epix™ (Gen 2) / quatix® 7 Sapphire
fēnix® 6 / 6 Solar / 6 Dual Power
fēnix® 6 Pro / 6 Sapphire / 6 Pro Solar / 6 Pro Dual Power / quatix® 6
fēnix® 6S / 6S Solar / 6S Dual Power
fēnix® 6S Pro / 6S Sapphire / 6S Pro Solar / 6S Pro Dual Power
fēnix® 6X Pro / 6X Sapphire / 6X Pro Solar / tactix® Delta Sapphire / Delta Solar / Delta Solar - Ballistics Edition / quatix® 6X / 6X Solar / 6X Dual Power
fēnix® 7 / quatix® 7
fēnix® 7S
fēnix® 7X / tactix® 7 / quatix® 7X Solar
Instinct® 2 / Solar / Dual Power / dēzl Edition
Instinct® 2S / Solar / Dual Power
MARQ® Adventurer
MARQ® Athlete
MARQ® Aviator
MARQ® Captain / MARQ® Captain: American Magic Edition
MARQ® Commander
MARQ® Driver
MARQ® Expedition
MARQ® Golfer
Venu™ 2
Venu™ 2 Plus
Venu™ 2S

VO2 max Cycling, VO2 max Running
API Level 3.3.0 | Supported Devices

Captain Marvel
D2™ Air
D2™ Air X10
D2™ Mach 1
Darth Vader™
Descent™ G1 / G1 Solar
Descent™ Mk2 / Descent™ Mk2i
Descent™ Mk2 S
Edge® 1030
Edge® 1030 Plus
Edge® 530
Edge® 830
epix™ (Gen 2) / quatix® 7 Sapphire
First Avenger
Forerunner® 245
Forerunner® 245 Music
Forerunner® 255
Forerunner® 255 Music
Forerunner® 255s
Forerunner® 255s Music
Forerunner® 55
Forerunner® 745
Forerunner® 945
Forerunner® 945 LTE
Forerunner® 955 / Solar
fēnix® 5 Plus
fēnix® 5S Plus
fēnix® 5X Plus
fēnix® 6 / 6 Solar / 6 Dual Power
fēnix® 6 Pro / 6 Sapphire / 6 Pro Solar / 6 Pro Dual Power / quatix® 6
fēnix® 6S / 6S Solar / 6S Dual Power
fēnix® 6S Pro / 6S Sapphire / 6S Pro Solar / 6S Pro Dual Power
fēnix® 6X Pro / 6X Sapphire / 6X Pro Solar / tactix® Delta Sapphire / Delta Solar / Delta Solar - Ballistics Edition / quatix® 6X / 6X Solar / 6X Dual Power
fēnix® 7 / quatix® 7
fēnix® 7S
fēnix® 7X / tactix® 7 / quatix® 7X Solar
Instinct® 2 / Solar / Dual Power / dēzl Edition
Instinct® 2S / Solar / Dual Power
MARQ® Adventurer
MARQ® Athlete
MARQ® Aviator
MARQ® Captain / MARQ® Captain: American Magic Edition
MARQ® Commander
MARQ® Driver
MARQ® Expedition
MARQ® Golfer
Rey™
Venu™
Venu™ 2
Venu™ 2 Plus
Venu™ 2S
Venu™ Mercedes-Benz® Collection
Venu® Sq
Venu® Sq. Music Edition
vívoactive® 4
vívoactive® 4S

Body battery, Respiration rate
API Level 3.3.0 | Supported Devices

Captain Marvel
D2™ Air
D2™ Air X10
D2™ Mach 1
Darth Vader™
Descent™ G1 / G1 Solar
Descent™ Mk2 / Descent™ Mk2i
Descent™ Mk2 S
epix™ (Gen 2) / quatix® 7 Sapphire
First Avenger
Forerunner® 245
Forerunner® 245 Music
Forerunner® 255
Forerunner® 255 Music
Forerunner® 255s
Forerunner® 255s Music
Forerunner® 55
Forerunner® 745
Forerunner® 945
Forerunner® 945 LTE
Forerunner® 955 / Solar
fēnix® 6 / 6 Solar / 6 Dual Power
fēnix® 6 Pro / 6 Sapphire / 6 Pro Solar / 6 Pro Dual Power / quatix® 6
fēnix® 6S / 6S Solar / 6S Dual Power
fēnix® 6S Pro / 6S Sapphire / 6S Pro Solar / 6S Pro Dual Power
fēnix® 6X Pro / 6X Sapphire / 6X Pro Solar / tactix® Delta Sapphire / Delta Solar / Delta Solar - Ballistics Edition / quatix® 6X / 6X Solar / 6X Dual Power
fēnix® 7 / quatix® 7
fēnix® 7S
fēnix® 7X / tactix® 7 / quatix® 7X Solar
Instinct® 2 / Solar / Dual Power / dēzl Edition
Instinct® 2S / Solar / Dual Power
MARQ® Adventurer
MARQ® Athlete
MARQ® Aviator
MARQ® Captain / MARQ® Captain: American Magic Edition
MARQ® Commander
MARQ® Driver
MARQ® Expedition
MARQ® Golfer
Rey™
Venu™
Venu™ 2
Venu™ 2 Plus
Venu™ 2S
Venu™ Mercedes-Benz® Collection
Venu® Sq
Venu® Sq. Music Edition
vívoactive® 4
vívoactive® 4S

Time to recovery
API Level 3.3.0 | Supported Devices

Captain Marvel
D2™ Air
D2™ Mach 1
Darth Vader™
Descent™ G1 / G1 Solar
Descent™ Mk2 / Descent™ Mk2i
Descent™ Mk2 S
epix™ (Gen 2) / quatix® 7 Sapphire
First Avenger
Forerunner® 245
Forerunner® 245 Music
Forerunner® 255
Forerunner® 255 Music
Forerunner® 255s
Forerunner® 255s Music
Forerunner® 55
Forerunner® 745
Forerunner® 945
Forerunner® 945 LTE
Forerunner® 955 / Solar
fēnix® 5 Plus
fēnix® 5S Plus
fēnix® 5X Plus
fēnix® 6 / 6 Solar / 6 Dual Power
fēnix® 6 Pro / 6 Sapphire / 6 Pro Solar / 6 Pro Dual Power / quatix® 6
fēnix® 6S / 6S Solar / 6S Dual Power
fēnix® 6S Pro / 6S Sapphire / 6S Pro Solar / 6S Pro Dual Power
fēnix® 6X Pro / 6X Sapphire / 6X Pro Solar / tactix® Delta Sapphire / Delta Solar / Delta Solar - Ballistics Edition / quatix® 6X / 6X Solar / 6X Dual Power
fēnix® 7 / quatix® 7
fēnix® 7S
fēnix® 7X / tactix® 7 / quatix® 7X Solar
Instinct® 2 / Solar / Dual Power / dēzl Edition
Instinct® 2S / Solar / Dual Power
MARQ® Adventurer
MARQ® Athlete
MARQ® Aviator
MARQ® Captain / MARQ® Captain: American Magic Edition
MARQ® Commander
MARQ® Driver
MARQ® Expedition
MARQ® Golfer
Rey™
Venu™
Venu™ Mercedes-Benz® Collection
Venu® Sq
Venu® Sq. Music Edition
vívoactive® 4
vívoactive® 4S

Stress
API Level 3.3.0 | Supported Devices

Captain Marvel
D2™ Air
D2™ Air X10
D2™ Mach 1
Darth Vader™
Descent™ G1 / G1 Solar
Descent™ Mk2 / Descent™ Mk2i
Descent™ Mk2 S
Enduro™
epix™ (Gen 2) / quatix® 7 Sapphire
First Avenger
Forerunner® 245
Forerunner® 245 Music
Forerunner® 255
Forerunner® 255 Music
Forerunner® 255s
Forerunner® 255s Music
Forerunner® 745
Forerunner® 945
Forerunner® 945 LTE
Forerunner® 955 / Solar
fēnix® 5 Plus
fēnix® 5S Plus
fēnix® 5X Plus
fēnix® 6 / 6 Solar / 6 Dual Power
fēnix® 6 Pro / 6 Sapphire / 6 Pro Solar / 6 Pro Dual Power / quatix® 6
fēnix® 6S / 6S Solar / 6S Dual Power
fēnix® 6S Pro / 6S Sapphire / 6S Pro Solar / 6S Pro Dual Power
fēnix® 6X Pro / 6X Sapphire / 6X Pro Solar / tactix® Delta Sapphire / Delta Solar / Delta Solar - Ballistics Edition / quatix® 6X / 6X Solar / 6X Dual Power
fēnix® 7 / quatix® 7
fēnix® 7S
fēnix® 7X / tactix® 7 / quatix® 7X Solar
Instinct® 2 / Solar / Dual Power / dēzl Edition
Instinct® 2S / Solar / Dual Power
MARQ® Adventurer
MARQ® Athlete
MARQ® Aviator
MARQ® Captain / MARQ® Captain: American Magic Edition
MARQ® Commander
MARQ® Driver
MARQ® Expedition
MARQ® Golfer
Rey™
Venu™
Venu™ 2
Venu™ 2 Plus
Venu™ 2S
Venu™ Mercedes-Benz® Collection
Venu® Sq
Venu® Sq. Music Edition
vívoactive® 4
vívoactive® 4S